Prevalence and Antibiotic Resistance in Aeromonas species Isolated from Common Carp (Cyprinus carpio L.) Cultivated in Floating Cages at Al-Hilla River
Keywords:
Fish, Aeromonas spp., antibiotic susceptibility, Iraq
Abstract
The aim of this study is describe the case of ulcer and hemorrhaging (red-sore disease) in a common carp (C. carpio) that is cultivated in floating cages at Al-Hilla river and to finding efficient antibiotic treatments. A total of 144 specimens of the common carp were examined for ulcer with hemorrhaging during the period from December 2017 till the end of November 2018. In this study, red-sore disease was found in 45 specimens. This disease is caused by the infection of Motile Aeromonas Septicemia (MAS). Aeromonas hydrophila, A. sobria and A. veronii were isolated from the skin, gills and intestine of common carp. Aeromonas species were identified with a different percentage in common carp as the follows: A. hydrophila (58.76%), A. sobria (31.83%) and A. veronii (43.3%). Antibiotic susceptibility test of 12 antibiotics (Piperacillin/ Tazobactan, Amikacin, Cefazolin, Gentamicin, Cefoxitin, Ciprofloxacin, Ceftazidime, Levofloxacin, Cefepime, Tigecycline, Imipenem and Trimethoprim/ Sulfamethoxazoleby) showed variable resistances for Aeromonas species. Aeromonas species were identified and examined for antibiotic susceptibility using the VITEK 2 system.
Downloads
Download data is not yet available.
References
Adanir, D.O.R. & Turutoglu, H. (2007). Isolation and antibiotic susceptibility of Aeromonas hydrophila in a carp (Cyprinus carpio) hatchery farm. Bull. Vet. Inst. Pulawy., 51: 361-364.
guilera, A.M.G.; Hernande, C.C.; Zuniga, G.; Figueras, M.J. & Castro, E.G. (2005). Aeromonas hydrophila clinical and environmental ecotypes as revealed by genetic diversity and virulence genes. FEMS Microbiol. Lett., 242(2): 231-240.
Albert, V. & Ransangan, J. (2013). Effect of water temperature on susceptibility of culture marine fish species to vibriosis. Inter. J. Res. Pure Appl. Microbiol., 3: 48-52.
Al-Niaeem, K.S.; Shnawa, I.M.S. & Al-Sa'adi, B.A. (2015). The immunological response for spleen as biomarker against of Aeromonas hydrophila bacterial in Cyprinus carpio fish. Basrah J. Vet. Res., 15(2): 306-315.
Al-Taee, A.M..R; Khamees, N.R. & Al-Shammari, N.A.H. (2017). Vibrio species isolated from farmed fish in Basra City in Iraq. J. Aquac. Res. Dev., 8: 472. DOI: 10.4172/2155-9546.1000472.
Aoki T. (1999). Motile aeromonads (Aeromonas hydrophila). Pp: 427-453. In: Fish diseases and disorders. Woo PTK, Bruno D.W. (ed.) CABI Publishing, Wallingford: 944pp.
Aravenaromán, M.; Inglis, T.J.; Riley, T.V. & Chang, B.J. (2014). Distribution of 13 virulence genes among clinical and environmental Aeromonas spp in Western Australia. European J. Clin. Microbiol. Inf. Dis., 33(11): 1889-1895.
Austin, B. & Austin, D.A. (2012). Aeromonadaceae representatives (motile aeromonads): 119-146. In: Austin, B. & Austin, D.A. (Eds.), Bacterial fish pathogens, diseases of farmed and wild fish. 5th ed. Springer, New York, London: 652pp.
Buján, N.; Romalde, J.L. & Figueras, M.J. (2010). Comparison of phenotypical and genetic identification of Aeromonas strains isolated from diseased fish. Syst. Appl. Microbiol., 33: 149.153.
Beazhidalgo, R. & Figueras, M.J. (2013). Aeromonas spp whole genomes and virulence factors implicated in fish disease. J. Fish Dis., 36(4): 371-388.
Bondad-Reantaso, M.G.; Subasinghe, R.P.; Arthur, J.R.; Ogawa, K.; Chinabut, S.; Adlard, R.; Tan, Z. & Shariff, M. (2005). Disease and health management in Asian aquaculture. Vet. Parasitol., 132(3-4): 249-272.
Chopra, I. & Roberts, M. (2001) Tetracycline antibiotics: mode of action, applications, molecular biology, and epidemiology of bacterial resistance. Microbiol. Mol. Biol., Rev., 65: 232-260.
Cipriano, R.C. (2001). Aeromonas hydrophila and motile Aeromonad septicemias of fish. Fish Dis Leaflet 68, United States Department of the Interior fish and wildlife service, Div. Fish. Res. Washington, D.C. 25pp.
Dixon, B.A. & Issvoran G. (1993). Antibacterial drug resistance in Aeromonas spp. isolated from domestic goldfish and koi from California. J. World Aquac. Soc., 24: 102-104.
El-Bouhy, Z.M.; El-Nobi, G.; Reda, R.M. & Ali, S. (2015). Prevalence of septicemia and red mouth disease caused by Aeromonas sobria at Sahl El-Housinia fish farm. Zagazig Vet. J., 43(3): 53-63.
Gao, Z.L.; Ji, X.; Guo, X.J.; Chen, P.; Liu, Y.J.; Liu, J. & Sun, Y. (2016). Establishment and application of a duplex real time fluorescence quantitative PCR assay for detection of Aeromonas hydrophila. Chinese J. Zoonoses, 32(12): 1126-1130.
Guz, L. & Kozinska, A. (2004). Antibiotic susceptibility of Aeromonas hydrophila and A. sobria isolated from farmed carp (Cyprinus carpio L.). Bull. Vet. Inst. Pulawy, 48: 391-395.
Hassan, A.; Noureldin, E.A.; Mahmoud, M. & Fita, N.A. (2017). Molecular identification and epizootiology of Aeromonas veronii infection among farmed Oreochromis niloticus in Eastern Province, KSA. Egyptian J. Aqu. Res., 43: 161-167.
Janda, J.M. & Abbott, S.L. (2010). The genus Aeromonas: taxonomy, pathogenicity and infection. Clin. Microbiol. Rev., 23: 35-73.
Ko, W.C.; Wu, H.M.; Chang, T.C.; Yan, J.J. & Wu, J.J. (1998). Inducible ß-lactam resistance in Aeromonas hydrophila: therapeutic challenge for antimicrobial therapy. J. Clin. Microbiol., 36: 3188-3189.
Li, F.; Wu, D. & Gu, H.R. (2019). Aeromonas hydrophila and Aeromonas veronii cause motile Aeromonas septicaemia in the cultured Chinese sucker, Myxocyprinus asiaticus. Aqu. Res., 1-12. https:// doi.org/ 10.1111/ are. 14028.
Nawaz, M.; Sung, K.; Khan, S.A., Khan, A.A. & Steele, R. (2006). Biochemical and molecular characterization of tetracycline-resistant Aeromonas veronii isolates from catfish. Appl. Environ. Microbiol., 72(10): 6461-6466.
Pachanawan, A.; Phumkhachorn, P. & Rattanachaikunsopon, P. (2008). Potential of Psidium guajava supplemented fish diets in controlling Aeromonas hydrophila infection in tilapia (Oreochromis niloticus). J. Biosci. Bioeng., 106(5): 419-424.
Rijnsdorp, A.D.; Peck, M.A.; Engelhard, G.H., Mollmann, C. & Pinnegar, J.K. (2009). Resolving the effect of climate change on fish populations. ICES J. Mar. Sci., 66: 1570-1583.
Skwor, T.; Shinko, J.; Augustyniak, A.; Gee, C. & Andraso, G. (2014). Aeromonas hydrophila and Aeromonas veronii predominate among potentially pathogenic ciprofloxacin and tetracycline resistant Aeromonas isolates from Lake Erie. Appl. Environmen. Microbiol., 80(3): 841-848.
Soltan, D.M.M.; Yazdi, M.K.S & Avadisians, S. (2012). Study of prevalence and antibiotic resistance in Aeromonas spp. isolated from minced meat and chicken samples in Iran. African J. Microbiol. Res., 6(7): 1568-157.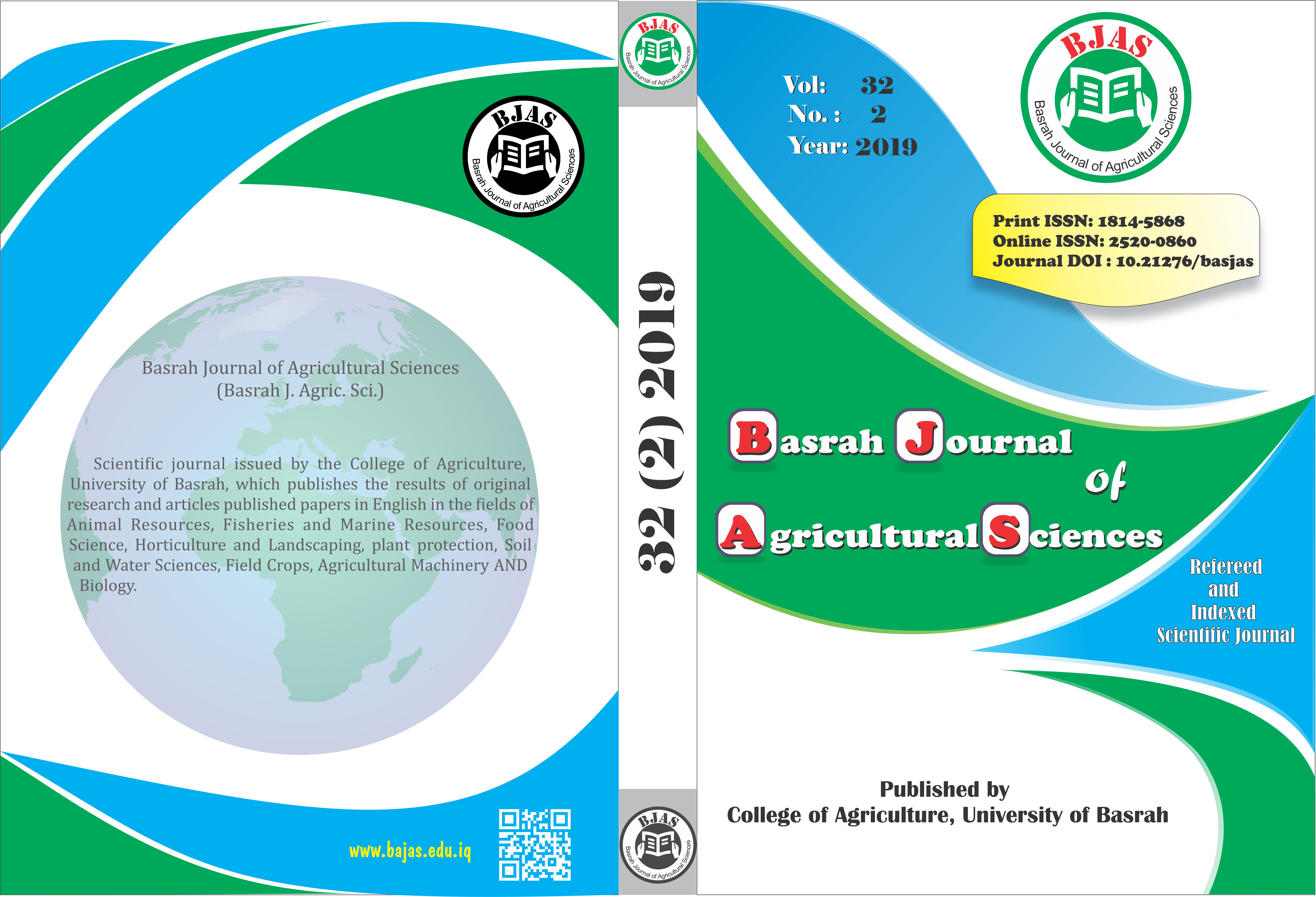 How to Cite
Al-Haider, S. M., Al-Niaeem, K. S., & Resen, A. K. (2019). Prevalence and Antibiotic Resistance in Aeromonas species Isolated from Common Carp (Cyprinus carpio L.) Cultivated in Floating Cages at Al-Hilla River. Basrah J. Agric. Sci., 32(2), 33-43. https://doi.org/10.37077/25200860.2019.194
Copyright (c) 2019 Sadeq M. Al-Haider, Khalidah S. Al-Niaeem & Amjed K. Resen
This work is licensed under a Creative Commons Attribution-NonCommercial-ShareAlike 4.0 International License.