Taxonomic Study of some Species of Flower Flies (Diptera: Syrphidae) at Basrah Province
Keywords:
Classification, Insect, Diptera, Syrphidae, Iraq
Abstract
The current study were carried out to identify of five species belong to the flower fly family Syrphidae, depending on male genitilia. They included Episyrphus balteatus De Geer, 1776; Eupeodes corollae Fabricius, 1794; Sphaerophoria scripta Linnaeus, 1758; Eristalinus aeneus Scopoli, 1763; Eristalis tenax Linnaeus, 1758, from some Basrah province.
Downloads
Download data is not yet available.
References
Abdul-Rassoul, M.S. (1976). Checklist of Iraq natural history museum Insects Collection. Nat. Hist. Res. Cen., Iraq, Pub.1, No. 30: 41pp.
Abdulrazaak, K.J. (2014). A Taxonomic study of some species of syrphid fly in Thi-Qar province. Thi-Qar Univ. J. Agric. Res., 3(2): 219-233.
Al-Saffar, H.H., & Augul, R.S. (2015). Survey of Brachycera; Diptera from several regions of Iraq. Bulletin of the Iraq Natural History Museum, 13(3): 59-69.?
Bigot, J.M.F. (1892). Catalogue of Diptera of Oriental region. J. Asiatic Soc. Bengal., 2: 228-236. Coe, R.L. (1953). Handbook for the Identification of British Insects. Roy. Entom. Soc., London, 10(1): 1-98.
Curran, C.H. (1965). The Families and Genera of North America Diptera. 2nd ed. Henry Tripp. New York: 515pp.
Daniel, A.S. & Drew, W.A. (1976). Syrphidae of the Oklahoma (Diptera). Proc. Okla. Acad. Sci., 56: 1-75.
Entwistle, J.C. & Dixon, A.F.G. (1989). The effect of augmenting grain aphid (Sitobion avenue) numbers in a field of winter wheat in spring on the aphid's abundance in summer and its relevance to the forecasting of outbreaks. Annals Appl. Biol., 114: 397-408.
Ghorpadé, K. (2014). An updated checklist of the hover-flies (Diptera-Syrphidae) recorded in the Indian subcontinent. Colemania, 44: 1-30.
Golding, Y.; Edmunds, M. & Ennos, A.R. (2005). Flight behaviour during foraging of the social wasp Vespula vulgaris (Hymenoptera: Vespidae) and four mimetic hoverflies (Diptera: Syrphidae) Sericomyia silentis, Myathropa florea, Helophilus sp. and Syrphus sp. J. Exp. Biol., 208: 4523-4527.
Hassan, M.A.; Bodlah I.; Bodlah, M.A. & Hussain, R. (2019). New records of the genus Ceriana Rafinesque, 1815 (Diptera: Syrphidae) from Pakistan. Munis Entomol. Zool., 14 (1): 185-187.
Hennig, E.I. (2011). Plant–pollinator interactions within the urban environment. Perspect. Plant Ecol., 13(2): 137-150.
Hussein, H.M. (2013). Daily activity of some local pollinators for alfalfa crop Trifolium alexenderianum in Al-Qadisiyah. J. Univ. Babylon. 3(20): 901-909.
Kridi, A.A. (2016). Survey and identification some pollinators and pollen resources in Missan. Thesis. Dept. Plant Protection, Coll. Agric., Univ. Basrah: 91pp.
Maaroof, A.A. & Amin, A.H. (1989). The presence and seasonal spread of an insect Pemphigus lichtensteini Talg. (Aphididae: Homoptera) in Mosel. Mesopot. J. Agric., 18(1): 195-203.
Mohamed, M.A. & Abdullah, S.E. (1989). Environmental and biological study on Aphids pomegranate insect in the Mosul area. Mesopotamia J. Agric., 21(3): 279-310.
Mouhammed, Z.J. (2017). Diagnostic study of some species of aphid on wheat crop and bilogical control in provinces of Maysan and Basrah. M. Sc. Thesis. Dept. Plant Protection, Coll. Agric., Univ. Basrah: 82pp.
Müller, C.B. & Godfrey, H.C.J. (1999). Predators and mutualists influence the exclusion of aphid species from natural communities. Oecologia, 119: 120-125.
Nayar, J.L. (1977). Abdominal Teratology in Eristalis tenax (L.) from Libya and Indie. Orienta Insects, 11(4): 639-642.
Ross, H.H. (1948). A Textbook of Entomology. John Wiley & Sons, Inc., 2nd ed. New York: 487pp.
Rotheray, G.E. & Gilbert F.S. (1999). Phylogeny of Palaeartic Syrphidae (Diptera) evidence from larval stages. Zoo .J. Linn. Soc. Lond., 127: 1-112.
Saribiyik, S. (2003). Fauna of Syrphidae and Milesiinae (Diptera:Syrphidae) around Tuz lake. Kastamonu Egitim Dergisi., 2: 439-450.
Steyskal, C.G. & Bialy, S. (1967). List of Egyptian Diptera. Tech. Bull. Min. Agric., 3: 12-18.
Subhan, F. & Shah, M. (2016). Taxonomic study of genus Sphaerophoria Le Peletier et Serville (Diptera: Syrphidae) with three species from Northern dry mountains region of Pakistan. J. Entomol. Zool. Stud., 4(4): 1192-1198.
Swailem, S.M.; Selim, A.A. & Amin, A.H. (1974). A contribution to the study of the insect fauna of Hammam Al-Alil, Part I. Mesopotamia J. Agric. 9(1-2): 119-141.
Telford, H.S. (1970). Eristalis (Diptera) from America, North of Mexico. Ann. Ent. Soc. Am., 85: 1201-1209.
Thompson, F.C. (1997). Revision of the Eristalis flower flies (Diptera:Syrphidae) of the Americans south of the united states. Proc. Ento. Soc., 99(2): 209-237.
Thompson, F.C. (2003). Austalis, new genus of flower flies (Diptera: Syrphidae) with revisionary notes on related genera. Zootaxa, 246: 1-19.
Thompson, F.C. (2013). Systema Dipterorum, Version 1.5; [Accessed 2015 Jan 10]. Available from: http://www.diptera.org/.
Wallis, C.M. (2005). Aphid (Hemiptera: Aphididae) species composition and potential aphid vectors of Plum PoxVirus in Pennsylvania Peach Orchards, J. Econ. Entomol., 98(5): 1441-1450.
Wright, S.G. & Skevington, J.H. (2013). Revision of the subgenus Episyrphus (Episyrphus) Matsumura (Diptera: Syrphidae) in Australia. Zootaxa, 3683(1): 51-64.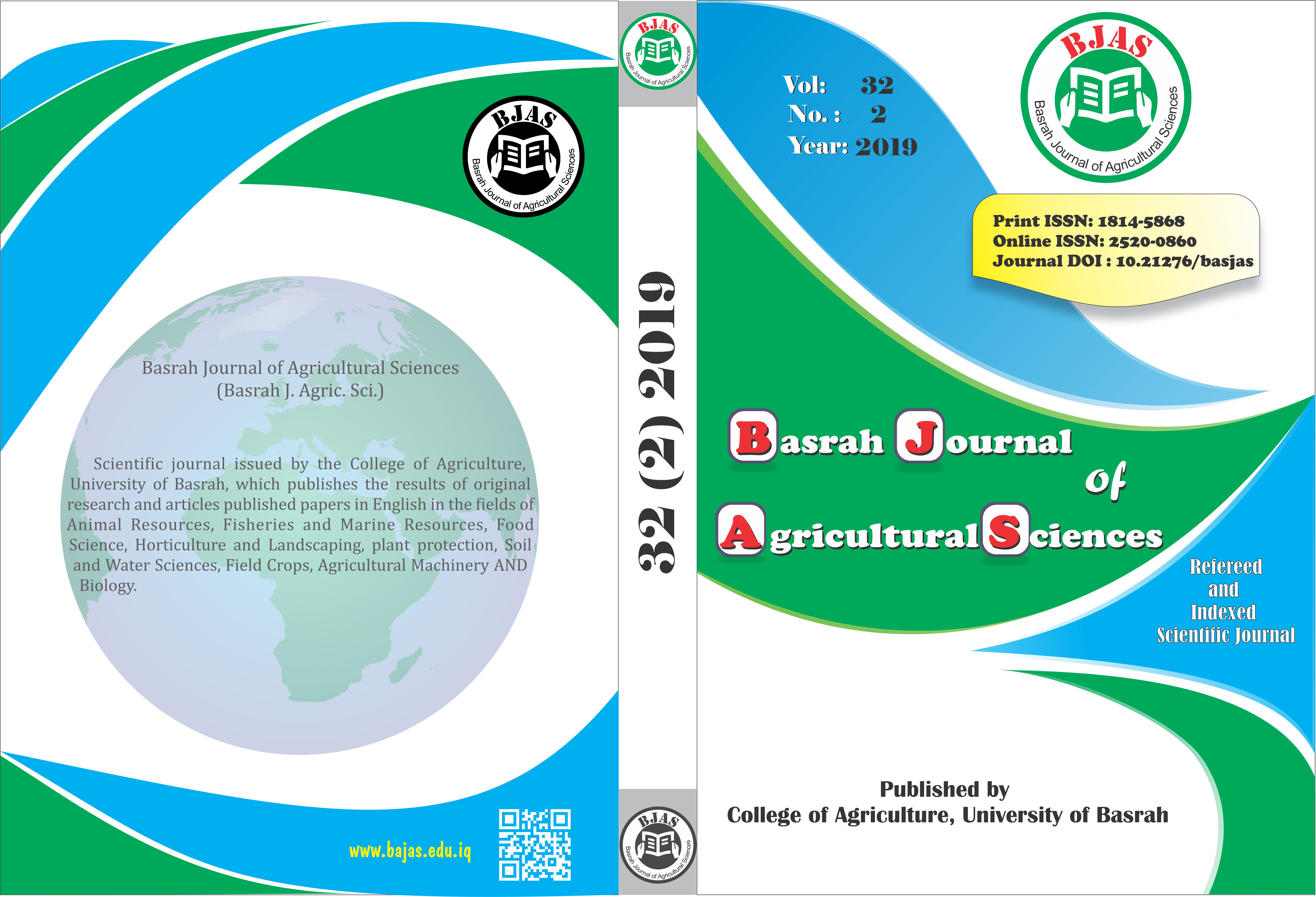 How to Cite
Atta, A. R. A., Jabbar, A. S., & Abdulkader, A. A. (2019). Taxonomic Study of some Species of Flower Flies (Diptera: Syrphidae) at Basrah Province. Basrah J. Agric. Sci., 32(2), 169-175. https://doi.org/10.37077/25200860.2019.207
Copyright (c) 2019 Abdul Rahman A. Atta, Alaa S. Jabbar & Ayad A. Abdulkader
This work is licensed under a Creative Commons Attribution-NonCommercial-ShareAlike 4.0 International License.