The Effects of Foliar Spraying of Folic Acid and Cysteine on Growth, Chemical Composition of Leaves and Green Yield of Faba Bean (Vicia faba L.)
Keywords:
Faba bean, folic acid, Cysteine, Growth, yield
Abstract
An experiment was conducted during winter growing season of  2018 /2019 at Al-Qurnah sub-district, Basrah Governorate to study the effect of foliar spraying of folic acid and amino acid cysteine at different concentrations on growth, Minerals, chlorophyll contents and green yield faba bean (Vicia faba cv. Luz de otono). The study included sixteen treatments Consist of four concentration of folic acid (o,10,20 and 30) mg.L-1 in combination with four concentrations of Cysteine (0,10,20 and 30) mg.L-1. The results indicated that spraying with folic acid or cysteine significantly increased all vegetative growth characteristics (shoot height, branch number, leaflet number and fresh and dry weight of shoot system per plant), N, P, K, chlorophyll content of leaves and green pod yield/plant and fresh seed yields /plant. Spraying with folic acid at 30 mg.L.-1 and cysteine at 30 mg.L.-1 gave the greatest values of growth parameters, chlorophyll and yield, whereas 20 mg.L-1 folic acid with 30 mg.L-1 Cysteine was produced the highest values of N, P and K in faba bean leaves as compared with other combination treatments. Control treatment gave the lowest values for growth parameters, chlorophyll, N, P, K and yield.
Downloads
Download data is not yet available.
References
Alvarez, C.; Angeles Bermudez, M.; Romero, L.C.; Gotor, C. & Garcia, I. (2012). Cysteine homeostasis plays an essential role in plant immunity. New Phyt., 193: 165-177.
Andrew, W.J.; Youngkoo, C.; Chen, X. & Pandalai, S.G. (2000). Vicissitudes of a vitamin. Recent Res. Dev. Phytochem., 4: 89-98.
Asensi-Fabado, M.A. & Munné-Bosch, S. (2010). Vitamins in plants: occurrence, biosynthesis and antioxidant function. Trends Plant Sci., 15: 582-592.
El-Awadi, M.E. & Abd El Wahed, M.S.A.(2012) Improvement the growth and quality of green Onion (Allium cepa L.) plants by some bioregulators in the new reclaimed area at Nobaria Region, Egypt. New York Sci. J., 5(9): 114-120.
Farouk, S. & Abdul Qados, A.M.S. (2018). Enhancing seed quality and productivity as well as physio-anatomical responses of pea plants by folic acid and/or hydrogen peroxide application. Sci. Hortic-Amsterdam, 240: 29-37.
Farouk, S. & El-Saidy, A.E.A. (2013). Seed invigoration techniques to improve germination and early growth of sunflower cultivars. J. Renewable Agric., 1: 33-38.
Hanson, A.D. & Roje, J.F. (2011). One-carbon metabolism in higher plant. Annual Rev. Plant Physiol. Plant Mol. Biol., 52: 119-137.
Heo, K.; Glenys Gibson, G. & Evans, R. (2019). Effects of bisphenol-A and folic acid on growth, reproductive development, and DNA methylation in snapdragons (Antirrhinum majus). Botany, 97(2): 149-160.
Igwilo, N. (1982). Nodulation and Nitrogen accumulation in field beans (Vicia faba L.). J. Agric. Sci. Camb., 98: 269-288.
Jabrin, S.; Ravanel, S.; Gambonnet, B.; Douce, R. & Rebeille, F. (2003). One-carbon metabolism in plants. Regulation of tetrahydrofolate synthesis during germination and seedling development. Plant Physiol., 131: 1431-1439.
Jobe, T.O.; Zenzen, I.; Karvansara, P.R. & Kopriva, S. (2019). Integration of sulfate assimilation with carbon and nitrogen metabolism in transition from C3 to C4 photosynthesis. J. Exp. Bot., 70(16): 4211-4221.
Kilic, S. & Ace, H.T. (2016). Role of exogenous folic acid in alleviation of morphological and anatomical inhibition on salinity-induced stress in barley. Ital. J. Agron., 11(4): 246-251.
Murphy, T. & Riley J.R. (1962). A modified single solution method for the determination of phosphate in natural waters. Anal. Chem. Acta, 27: 31-36.
Page, A.L.; Miller, R.H. & Keeney, D.R. (1982). Methods of Soil Analysis Parts, 2nd ed. Madison, Wisconsin: 1159pp.
Poudineh, Z.; Moghadam, Z.G. & Mirshekari, S. (2015). Effects of humic acid and folic acid on sunflower under drought stress. Bio. Forum- An Inter. J., 7(1): 451-454.
Rai, V.K. (2002). Role of amino acids in plant responses to stresses. Biol. Plantarum., 45: 481-487.
Romero, L.C.; Aroca, M.Á.; Laureano-Marín, A.M.; Moreno, I.; García, I. & Gotor, C. (2014). Cysteine and cysteine-related signaling pathways in Arabidopsis thaliana. Mol. Plant, 7(2): 264-276.
Stakhova, L.N.; Stakhov, L.F. & Ladygin, V.G. (2000). Effect of exogenic folic acid on the yield and amino acid composition of the seeds of Pisum sativum L. and Hordeum vulgare L. Prikl Biokhim Mikrobiol., 36(1): 98-103.
Winch, T. (2006). Growing Food. A Guide to Food Production. Springer: 36pp.
Zaehringer, M.V.; Davis, K.R. & Dean, L.L. (1974). Persisten green color snap beans Phaseolus vulgaris color-related constituents and quality of cooked fresh beans. J. Amer. Soc. Hort. Sci., 99(1): 89-92.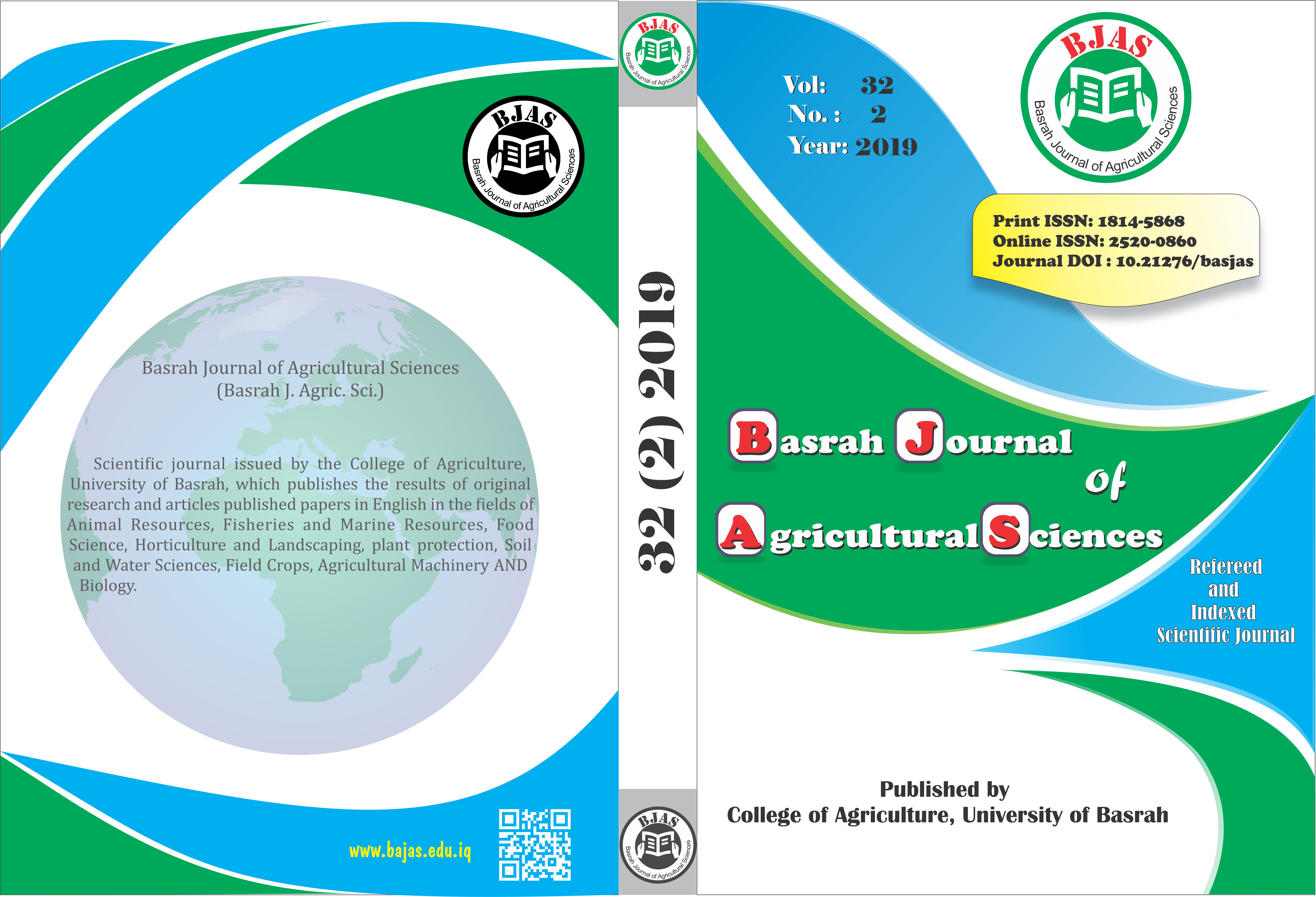 How to Cite
Al-Maliky, A. W., Jerry, A. N., & Obead, F. I. (2019). The Effects of Foliar Spraying of Folic Acid and Cysteine on Growth, Chemical Composition of Leaves and Green Yield of Faba Bean (Vicia faba L.). Basrah J. Agric. Sci., 32(2), 223-229. https://doi.org/10.37077/25200860.2019.212
Copyright (c) 2019 Azhar W.A. Al-Maliky; Awatif N. Jerry & Faris I. Obead
This work is licensed under a Creative Commons Attribution-NonCommercial-ShareAlike 4.0 International License.