The Application of Manure (Poultry Wastes) and Bio-Formulations of Trichoderma harzianum and T. viride and Their Interaction to Control Root-knot Disease on Radish and Chard
Keywords:
Nematode, Meloidogyne javanica, Biological control, radish, Chard, Trichoderma
Abstract
The study was designed to examine the effect of manure (poultry wastes) and bio-formulations of Trichoderma harzianum and T. viride separately or with some, to control root-knot disease on radish (Raphanus sativus L.) and chard (Beta vulagaris var.cicla (L.)). The study included the isolation of pathogenic nematode of both plant roots, morphological and molecular identification, examination of the pathogenicity in vitro and in vivo and green house experiments involved application of manure and fungal bio-formulations treatments. The morphological and molecular identification confirmed the identity of root-knot nematode, as Meloidogyne javanica, which was pathogenic to radish and chard. The recorded infection severity was 89 and 95% respectively. The green house experiment results revealed that MThTv treatment was significantly reduced infection severity to 0% for radish and chard in contaminated soil (CS) compared with control positive treatment (55.17 and 40%) respectively. MThTv treatment also showed a highest plant height for Radish in non-nematode-contaminated soil (NCS) and CS treatment (17.85 and 16.50 cm) respectively compared with control positive treatment (5.00 cm), while the highest plant height of Chard was 24.5 cm in MThTv-NCS. The wet weight index in Radish showed a superiority of MThTv and MTh in NC on other treatments (201.75 and 189.5 g.plant-1) respectively followed by MThTv-NCS treatment (184.5 g.plant-1) compared with 19.25 gm.plant-1 in control treatment. In Chard the results showed similar pattern represented by superiority of MThTv-NC treatment (255.25 gm.plant-1) followed by MThTv-NCS (190.75 gm.plant-1) compared with 37.50 gm/plant for positive control.
Downloads
Download data is not yet available.
References
Abad, P.; Favery, B.; Rosso, M.N. & Castagnon Sereno, P. (2003). Root-knot nematode parasitism and host response: molecular basis of sophisticated interaction. Mol. Plant Pathol., 4: 217-224.
Aydinli, G. & Mennan, S. (2016). Identification of root-knot nematodes (Meloidogyne spp.) from greenhouses in the Middle Black Sea Region of Turkey. Turk. J. Zool., 40(5), 675–685.https://doi.org/10.3906/zoo-1508-19.
Agrios, G.N. (2005). Plant Pathology. Elsevier Academic Press Publication: 952pp.
Al-Waily, D.S.A. (2004). A study of tomato seedling damping-off disease and their integrated controlin the fields of Zubair and Safwan in Basrah. Ph. D. Thesis. Univ. Basrah: 96pp.
Baker, R. (1989). Improved Trichoderma spp. for promoting crop productivity. Trends Biotechnol., 7: 34 38.
Bird, D.M. & Kaloshian, I. (2003). Are roots special Nematodes have their say. Physiol. Mol. Plant Pathol., 62: 115-123.
Bridge, J. & Page, S.L.J. (1980). Estimation of root-knot nematode infestation levels on roots using a rating chart. Trop. Pest Manage., 26: 296-298.
Cook, R.J. (2000). Advances in plant health management in the twentieth century. Annu. Rev. Phytopathol., 38: 95-116.
Davis, E.L.; Hussey, R.S. & Baum, T.J. (2004). Getting to the roots of parasitism by nematodes. Trends Parasitol., 20: 134-141.
Hirschmann, H. (1985). The classification of the family Meloidogynidae: 35-45. In Sasser, J.N. & Carter, C.C. (Eds.). An Advanced Treatise on Meloidogyne, Vol.1. Dept. Plant Pathology, US Agency for International Development, Raleigh, N.C.: 422 pp.
Luc, M.; Sikora, R.A. & Bridge, A. (1990). Plant Parasitic Nematodes in Subtropical and Tropical Agriculture. CABI.: 241pp.
Matloob, A.N.; Sultan, I. & Abdool, K.S. (1989). Vegetable production. 2nd Part. Book house of printing and publishing. Univ. Mosul Press. 337pp. (In Arabic).
McClure, M.A.; Kruk, T.H. & Misaghi, I. (1972). A method for obtaining quantities of clean Meloidogyne eggs. Nematologiea., 5: 230.
Mukerji, K.G. & Garg, K.L. (1987). Trichoderma as biocontrol agent. Biocontrol. Plant Dis., 1: 71-82 .
Okoth, S.A.; Otadoh, J.A. & Ochanda, J.O. (2011). Improved seedling emergence and growth of maize and beans by Trichoderma harziunum. Trop. Subtrop. Agroecosyst., 13: 65-71.
Papavizas, G.C.; Lewis, J.A., & Abd-Elmoity,T.H. (1982). Evolution of new biotypes of Trichoderma harzianum for tolerance to benomyl and enhanced Biocontrol capabilities. Phytopathology, 72: 126-132.
Perry, R.N.; Moens, M. & Starr, J. (2010). Root-Knot Nematodes. CABI: 531pp.
Sikora, R.A. & Kiewnick, S. (2006). Biological control of the root-knot nematode Meloidogyne incognita by Paecilomyces lilacinus strain 251. Biol. Control, 38: 179-187.
Singh, N. & Siddiqui, Z.A. (2012). Inoculation of Tomato with Ralistonia solanacearium, Xanthomonas campestris, and Meloidogyne javanica. Int. J. Veg. Sci., 18: 78-86.
Zijlstra C.; Donkers-Venne, D.THM, & Fargette, M. (2000). Identification of Meloidogyne incognita, M. javanica, and M. arenaria using sequence characterised amplified region (SCAR) based PCR assays. Nematology, 2: 847-853.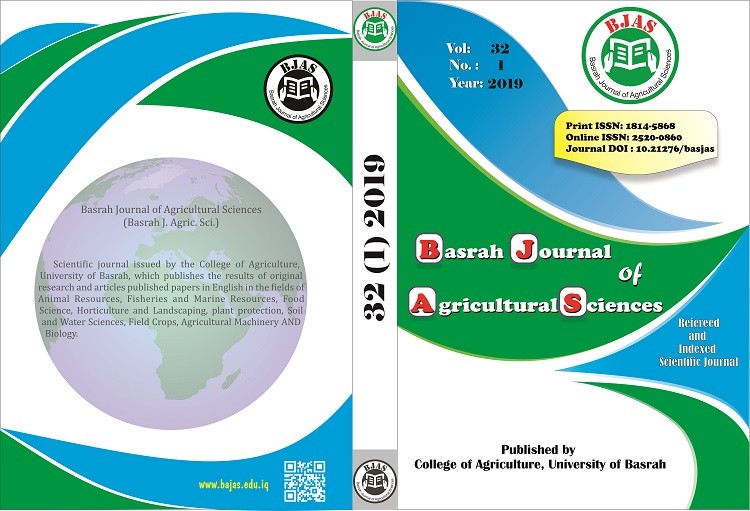 How to Cite
Al-Zehebawi, N. A., Al-Waily, D. S., & Al-Saad, L. A. (2019). The Application of Manure (Poultry Wastes) and Bio-Formulations of Trichoderma harzianum and T. viride and Their Interaction to Control Root-knot Disease on Radish and Chard. Basrah J. Agric. Sci., 32(1), 88-98. https://doi.org/10.37077/25200860.2019.195
Copyright (c) 2019 Nuha A. Al-Zehebawi, Dhia S. Al-Waily & Labeed A. Al-Saad
This work is licensed under a Creative Commons Attribution-NonCommercial-ShareAlike 4.0 International License.